Masonic Activities Have Resumed At Our Lodge!
For most of last year, all Lodge activities such as regular Lodge meetings, conferring of degrees, presentations, fellowship dinners, and the like were suspended due to Covid-19 restrictions.
We are happy to report that these activities are now resuming.
Of course, we will take all possible precautions such as mandatory wearing of masks, social distancing, etc.
For detailed information regarding any particular activity, or to get the most recent status on upcoming events, please
contact us
.
Welcome
A hearty welcome to the online home of the Libertyville Masons!
We hope to provide "something for everyone":
If you're a Mason who has recently relocated to the area and are looking for a new Masonic home, please check out our page on joining our Lodge…
If you're interested in becoming a Mason a wonder how to proceed, please read our page on becoming a Mason…
If you're looking for general information on Masonry and would like a quick overview of what is Masonry (and what isn't it), we have a concise article on What is Masonry…
And of course, please feel free to "surf" our site for information about us, our Lodge, local and lodge news, and the exciting events we're planning.
Lastly, if you'd like to reach out to us for any reason--from wanting to join us to satisfying your curiosity about Masons and Masonry--please don't hesitate to contact us.
We would be delighted to hear from you!
Latest News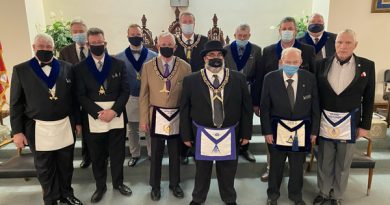 On Friday, April 9, 2021, our Lodge held its annual meeting and election of officers. Immediately after the meeting, the new officers were installed. WBr. Mitchell White has replaced WBr. Gerry Thomas as Worshipful Master.