Masonic Activities Have Resumed!
Please note that by order of the Most Worshipful Grand Master of the State of Illinois, Masonic Lodge meetings, presentations, dinners, etc. are now allowed to resume in their usual form.

Lodge members and guests are expected to follow the Governor's guidelines to prevent the spread of illness.
Welcome
A hearty welcome to the online home of the Libertyville Masons!
We hope to provide "something for everyone":
If you're a Mason who has recently relocated to the area and are looking for a new Masonic home, please check out our page on joining our Lodge…
If you're interested in becoming a Mason a wonder how to proceed, please read our page on becoming a Mason…
If you're looking for general information on Masonry and would like a quick overview of what is Masonry (and what isn't it), we have a concise article on What is Masonry…
And of course, please feel free to "surf" our site for information about us, our Lodge, local and lodge news, and the exciting events we're planning.
Lastly, if you'd like to reach out to us for any reason--from wanting to join us to satisfying your curiosity about Masons and Masonry--please don't hesitate to contact us.
We would be delighted to hear from you!
Latest News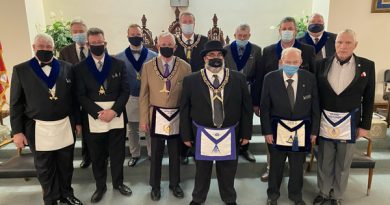 New officers for our Libertyville Masonic Lodge have been elected for the upcoming Masonic year, with Mitchell White as the new Master.