The 2017 Summer Masonic Education Symposium
Libertyville Lodge #492 hosted a wonderful evening full of Masonic Education this past Tuesday, August 8. We enjoyed a great turnout from members of our lodge, other lodges from around the 1st NE District, and even a visiting Brother from Wisconsin!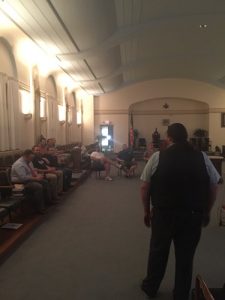 Topics were widely varied throughout the evening:
Bro. Gerry Thomas went in depth on the words of the Chaplain, giving the Brothers in attendance a little more to thing about when listening to the prayers given during the Third Degree and at the opening and closing of the Lodge.
Bro. Jeffery James spoke about the importance of the Intender (Masonic Mentor) after a candidate has received his Master Mason Degree.
Bro. Dan Lutter gave a wonderful presentation providing many wonderful examples of how closely Freemasonry and Alchemy are related.
RWB Robert Johnson closed the evening giving great direction as to how we as Masons should go about researching and writing papers with a focus on Masonic Education.
After each presentation, there was a nice open-ended discussion throughout the Lodge, continuing the conversation past the presentations.
Thank you to all who attended, and keep watching our calendar and Facebook page for future events dedicated to Masonic Education!